Choreography – Artist Management & Development – PR
Here is the latest news:
Happy New 2011!
Got lots of good news for you all about my class schedule, SWEAT party, Keida, Cherry L,
Jamieson so scroll down…
SWEAT party 1 year anniversary and Wellness Campaign
Time for another SWEAT party! This time we'll be at a bigger venue (more space to dance).
We'll celebrate our 1 year anniversary and launch our wellness campaign.
Click HERE to get the SWEAT deluxe pack = admission, Sweat rag, a Dancehall Fusion
Thursday class, a gym pass and a massage. What other party offers all that? Tell a friend…
Ladies Home Journal interview with Cherry L
Click here to read and leave a comment, thanks!
Vote for Keida!
Keida is nominated for Best Female singjay and Best New Female Artiste in The Jamaican star.
Click here to vote, it only takes a couple of seconds!
Jamieson featured on 50 Cent's website
UK/NYC rapper recently released his "I Came, I Saw Vol. II," the second EP in his trilogy series. Over the past 6 months, Jamieson's music has been covered by most of the top tier hip-hop tastemakers. He has collaborated with the likes of Sean Price, Joell Ortiz, Skyzoo, and Emilio Rojas. Click here to check out the feature and listen to "Chasing This Dream".
Latest dance class videos!!!
Class choreo vids:
BLACKGOLD vids:
Classes in NYC



Time: 830-930pm @ 49 West 24th Street, 8th Fl. btw 6th & 5th ave/Broadway.
Price: $20 per class (1st class is free for new Anya students). Contact the studio for monthly member ship and package prices.
#212 604 9766
info@studioanya.com
www.studioanya.com
Level: Open level
Thursdays: ripley Grier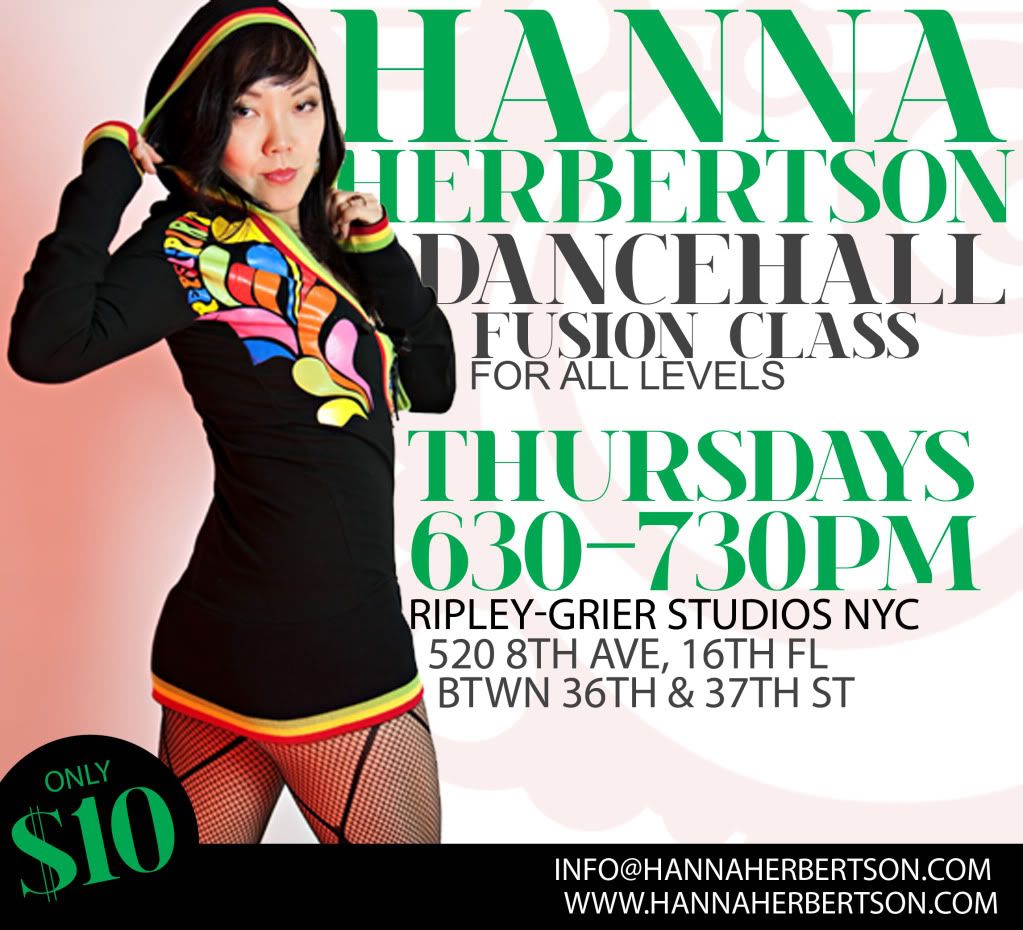 Hanna has been teaching since 1998 and have taught in places like Kingston (Jamaica), Paris (France), Brussels (Belgium), Helsinki (Finland), Boston, San Jose, San Francisco, NJ & LI (US) to mention a few.
Level: Open level. $10 (cash)
Address: 520 8th avenue betw 36 & 37th street, 16th floor Ripley Grier Studios.
Drop in but pre registration is strongly recommended!
Check out clip from class and comments from students, click here.
Photo by: Eve Photography
Saturdays:
NEW class @ Lotus studios (only 8 weeks)! Starting Jan 15
Sign up for 8 weeks (tot $160) and get a lower class price or pay per class/drop in ($25)
Click here to sign up! Call the studio: 212.627.1076
330-5pm @ Lotus Music and Dance 109 W27th street btw 6&7th av, 8th floor.
BLACKGOLD Dancehall class taught by Hanna, Genius & History


Dancehall Class, open level, every Saturday at The Brooklyn Dance Project
in Park Slope in Brooklyn.
Trains: F, G to 4th ave, R to 9 street
Time: Saturdays 630-8pm
Price: $15 per class

Private classes
If you can't make it to the regular classes or just don't feel comfortable with group training I also teach private classes. An hour one on one
or a smaller group is an excellent way of training if you want faster progress. All ages & levels.
My clients range from people, both men and women, who just wants to feel more confident when going out to professional dancers.
Email me and let me know what your goals with taking private classes are!
Artist development & show choreography
Helping artists develop their brand. Movement and/or choreography training with solo artists and groups. Working with a team of stylists, make up artists and dancers. Email with info about the artist and link so his/her/their sites and music.

Have a Golden weekend!
/HANNA HERBERTSON

Choreography – Artist Management & Development – PR
Ad:
Find me:
www.HannaHerbertson.com