Before giving you all the event and class info I would like to thank you all for the support throughout 2011! It's been an eventful year, some of the highlights where choreographing for

Opening Ceremony

's

FNO event

, starting to

DJ

out in public, the release of the

Blackgold mixtape

& the invitation to teach in Berlin. Got some very exciting new projects that I will introduce early 2012… Can give you some hints that it involves me exploring dancehall theater and also working with some new artists on the pr and development side. So stay tuned!

**Happy Holidays & Happy 2012**
HERE IS THE LATEST NEWS:
RIDDIM & VIBES PARTY EVERY TUESDAY!
Weekly Dancehall & Reggae party in Manhattan w DJ Autograph, Rampage Sound Global &
myself A.K.A DJ Golden at The No Malice Palace (197 E3rd st btw ave A & B). No cover, 21+ w id.
Starts 9pm.
Contact/inquiries: swejamprod@gmail.com
Facebook page
Follow us on Twitter @RiddimnVibes
Brand new mix with tunes from producers/artists Sean Paul, Keida, Equiknoxx Music, Truckback Records, Aleada Records, Million Stylez, Stylo G and many many more…
Dancehall Mix 11.19.11 by DJ Autograph
CAMEO IN TARRUS RILEY'S NEW VIDEO

"COME OVA"
Check out me, artist Nelson Serieux & a big boombox 2 min into the video! Click HERE to watch.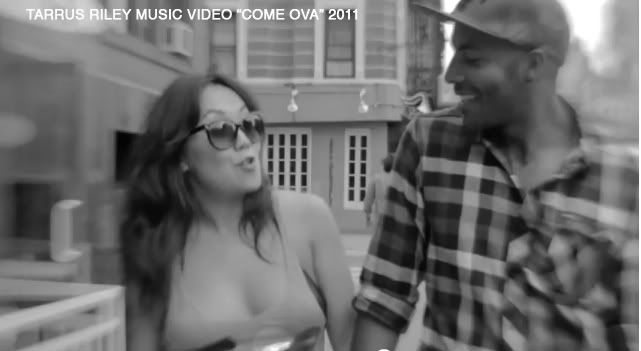 DANCEHALL FUSION CLASS – MONDAYS (NYC)
7-8pm @ Ripley-Grier Studios (520 8th ave btw 36 & 37th , 16th floor). Away dates: Dec 19&26.
Drop in, open level. Single class: $12. 10-class card $100
Questions: info@hannaherbertson.com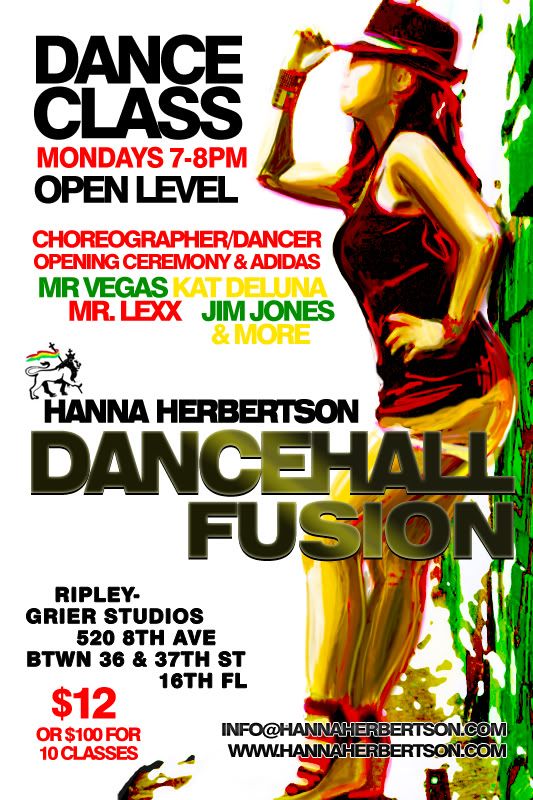 PRIVATE CLASSES
If you can't make it to the regular classes or just don't feel comfortable with group training Hanna also teach private classes. An hour one on one or a smaller group is an excellent way of training if you want faster progress. All ages & levels.
Email and write what your goals with taking private classes are!
ARTIST DEVELOPMENT
Helping artists develop their brand. Movement and/or choreography training with solo artists and groups. Email with info about the artist and link so his/her/their sites and music.
BERLIN WORKSHOP DEC 18!
BEGINNER DANCEHALL/REGGAE WORKSHOP FRI JAN 6

Feel stiff when going out? Want to update your moves and "loosen up"? Start the weekend with a flavorful workshop. This class will be geared towards beginners and students who want to gain confidence when it comes to social dancing or those who simply want get lost in the spicy Caribbean beats.
Studio Anya (49 W24th st btw 6th & 5th/B'way, 8th fl.). Click HERE to sign up!
NEW DANCE! WINTER SWAG
Here's the latest video from the Blackgold class. Ketch di dance! #WinterSwag
GET TO KNOW BLACKGOLD
Interview and exclusive dance & club footage.
Filmed and edited by Basslines (Australia).
Click here to watch
Help us out spreading it by watching, learning the dance and sharing it with your friends!
Thank you all for the suppport! Blackgold and dancehall to the worrrld!!!!!
YARDEDGE INTERVIEW
Blog that explores the edge of Jamaican Culture
DANCE CLASSES IN NYC

MONDAYS: ripley Grier

Hanna has been teaching since 1998 and have taught in places like Kingston (Jamaica), Paris (France), Brussels (Belgium), Helsinki (Finland), Boston, San Jose, San Francisco, NJ & LI (US) to mention a few.
Level: Open level. $12 (cash). 10-class card $100. Away dates: Dec 19 & 26.
Address: 520 8th avenue betw 36 & 37th street, 16th floor Ripley Grier Studios.
Drop in but pre registration is strongly recommended!
Check out clip from class and comments from students, click here.
SATURDAYS: BLACKGOLD DANCEHALL CLASS

Dancehall Class, open level, every Saturday at The Brooklyn Dance Project
in Park Slope in Brooklyn.
Trains: F, G to 4th ave, R to 9 street
Time: Saturdays 6.45-8.15pm
Price: $15 per class
Contact: blackgoldnyc@gmail.com
/HANNA HERBERTSON



Choreography – MUSIC – PR
FIND ME:
http://HannaHerbertson.com