Warning: Use of undefined constant user_level - assumed 'user_level' (this will throw an Error in a future version of PHP) in /customers/f/0/5/hannaherbertson.com/httpd.www/wp-content/plugins/ultimate-google-analytics/ultimate_ga.php on line 524
CLASS ALERT!
NYC: Broadway Dance Center Today July 21 – 4.30PM
TORONTO: Sat July 23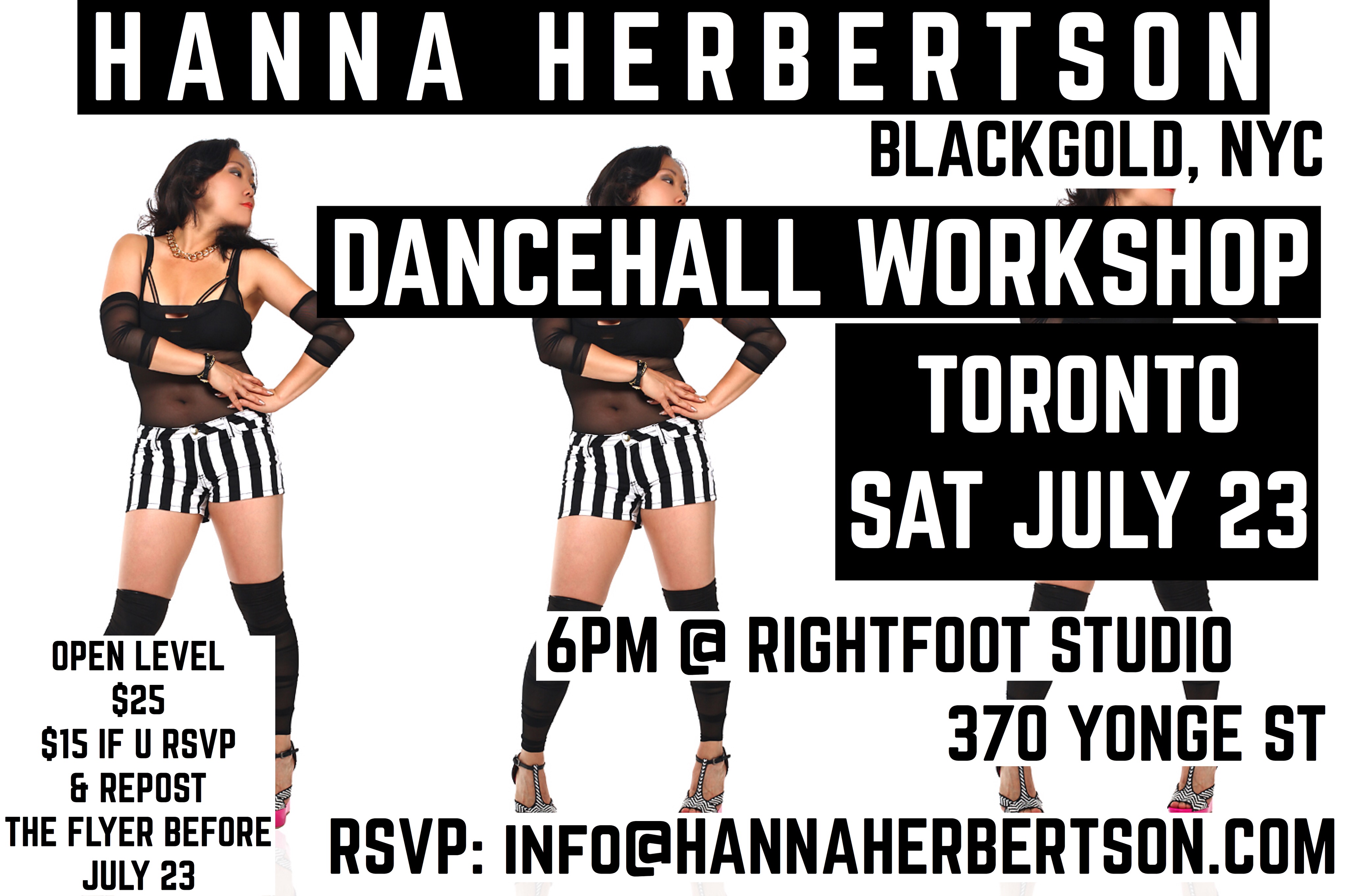 Can't wait to return to Toronto this weekend!
Will teach a workshop at
Rightfoot Studio
(370 Yonge st.) Sat July 23. Tell all your Tdot friends!
Open level
6-7.30pm
Fast approaching my "extended temporary leave" from the city that has been my home for the past ten years. Looking forward to new adventures on the other side of the pond!
Book workshops/privates/DJ Golden
Schedule is subject to change, stay updated by following me on social media:
Snapchat: HannaHerbertson
The P-V-P Show Interview

Had the honor to be interviewed by PVP, one of the dopest Dancehall dancers in NY and now podcast host. He grilled me about my past, present and future.
Click
HERE
to listen and don't forget to subscribe.
Mondays: 5-6pm (away July 25)
Thursdays: 8-9pm
Fridays: 5-6pm (away July 22)
Saturdays: 9am & 10am (away July 23)

Level: Adult Beginner Dancehall (Fitness Class)
Drop in. Free for members. $13 for non members (bring ID for registration at the front desk when you arrive).
_
Personal Training Sessions

If you want to get the most out of your class, get personal training and advice this is the choice for you. 
All ages & levels
.
Email
 for price info, availability and what write what your goal(s) with taking privates are.