Warning: Use of undefined constant user_level - assumed 'user_level' (this will throw an Error in a future version of PHP) in /customers/f/0/5/hannaherbertson.com/httpd.www/wp-content/plugins/ultimate-google-analytics/ultimate_ga.php on line 524
Dancehall & HiP WERRK Classes & Workshops
CLASSES IN SWEDEN:
❗️STOCKHOLM❗️
Try the new dance/fitness class HiP WERRK Mondays 18.45 – 19.45 @ Kungsholmsgatan 17 [NEW location]!
Price: Single class 180 kr. 4 class card 600 kr.
Sign up by emailing: hipwerrkfitness@gmail.com
Anmälan sker via email: hipwerrkfitness@gmail.com
What is HiP WERRK #StartWiningStopComplaining?

HiP WERRK is a dance/fitness class with focus on hip movements to music like Dancehall & Afrobeats.
Wine, roll, shake, let loose and feel like a queen on the dance floor!
All levels – no dance background needed
HiP WERRK is created by world renowned choreographer Hanna Herbertson who has been studying different styles of dance around the world that focuses on femininity and hip movements. During the class she introduces many different ways of moving your hips, techniques and strengthening exercises. Her main goal is to get everybody to feel good, gain confidence and have fun! Empowering women one wine at the time ?
Personal Training

Taking a private is the most effective way to learn. Hanna's dance sessions are also a great way to get a workout, get both cardio and strength training. All levels and ages, beginner to professional dancer. Hanna will challenge you and get your confidence up and help you achieve your goals. Email if you or someone you know wants to practice one on one or in smaller groups. Write what your goals with taking private classes are and your availability
BLACKGOLD Dancehall Class in Manhattan
Korie Genius & H1st0ry are teaching the BLACKGOLD Dancehall Class on Saturdays at Ripley-Grier Studios in Manhattan
Time: 4-5pm 
Price: $15 with RSVP, $20 w/o [cash only]
RSVP: blackgoldnyc@gmail.com
Check the facebook page or email for the latest info!
Address: 520 8th ave btw 36 & 37th st. Check the board for studio info when you reach the 16th floor
Testimonials
Claudette M.: "I remember walking into my first Dancehall reggae class with Hanna. I was nervous, shy, and most importantly lost! However, Hanna came in with a huge smile, dimmed the lights, and was extremely patient with us newbies. She took the time to break down every dance step and made us feel more comfortable with moving our body. She incorporates whining, stretching and choreography into a 1 hr workout which makes the class fun and interactive. To watch Hanna dance and create choreography off the top of her head is amazing. The way she moves so effortlessly to music its obvious that she has spent a great deal of time learning her craft. Hanna is a masterful teacher and a wonderful facilitator. Her ability as an instructor extends beyond dance. My confidence in Dancehall has since improved and it's all because of her. I'm officially addicted to her class and a bonafide FAN! Love love love her!!!"
Jennifer P.: "Hanna Herbertson love and passion for dancing and reggae makes Dancehall class not only a great workout but an awesome environment. Hanna does an amazing job getting the class warmed up. Hanna also comes up with great dance routines that not only is fun to dance to but a total body workout in itself. I am quite sure if you came to her class you would be addicted by the end. This class is for all levels and for hour long. Hanna is at the YMCA in Bedstuy on Mondays and Thursdays. I never miss a class!"
Denise B.: "I am A Hanna groupie!!! She makes trying to get back into shape fun…If i could take a Dancehall Fusion class every morning to kick start my day I would be a happy camper. I grew up on Dancehall, and was even in a little dance group in high school back home in Jamaica, I miss those days. Now that "Dancehall nice again"..  Its fun to see the incorporation if aerobics, stretches, and even yoga in Dancehall moves… Hanna ties this all together in a nice little package….I was shocked when she told us to pull out our mats the other night  and had us do a series of wining and stretching..So much fun! Love Her !!!"
Delphine C.: "Hanna's workshops are great. She is a teacher with great patience who will take the time make you understand the steps but also the attitude of Dancehall. Overall this workshop is perfect for beginners up for some wining and is also a super cool work out. Burning thighs for 2 days guaranteed !!!".
Gisela McDonald: "Hanna Herbertson is a phenomenal teacher. As a beginner student, she always made me feel very comfortable and her great energy made the classes so much fun. Thank you so much Hanna for being so patient with me and always taking the time to show me the steps to your choreography.
Hanna is a true master at her craft!! When you take a reggae Dancehall class with Hanna,
not only will you enjoy yourself but you will get an awesome workout as well."
Sofia G: "Hanna is one of the most charismatic dancers I have ever seen.
It is wonderful to witness her come up with choreography on the spot.
I love her class because she challenges me to push myself as a dancer, to attempt new styles and techniques,
no matter how intimidating it might seem at first.
She makes you feel comfortable while paying attention to your progress and is always ready to give you some
pointers as well as compliments too keep you motivated.
Overall, it is a wonderful experience that will leave you energized and thirsty for more."
Sheree R: "Dancehall Fusion sell off!!!!!!!! Hanna is amazing and she takes the time to break the moves down if you're not quite getting it. It's a fun time, good people and good atmosphere.
Everyone is super friendly and it's become like family.
Definitely check it out, you won't be disappointed. Dancehall Fusion to di werl."
Past Workshops
Guest Classes at Peridance in NYC Sept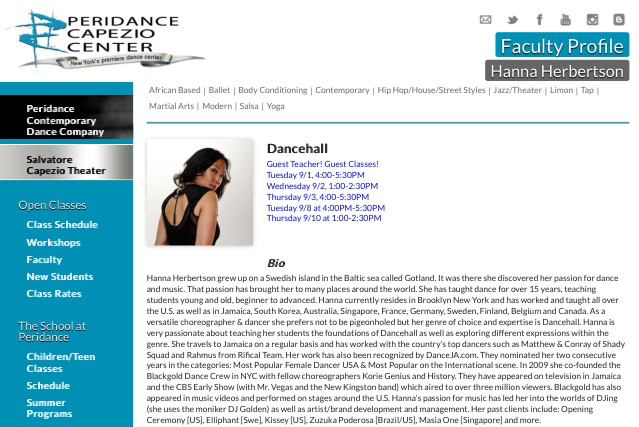 Blackgold & Koolaz BG Dancers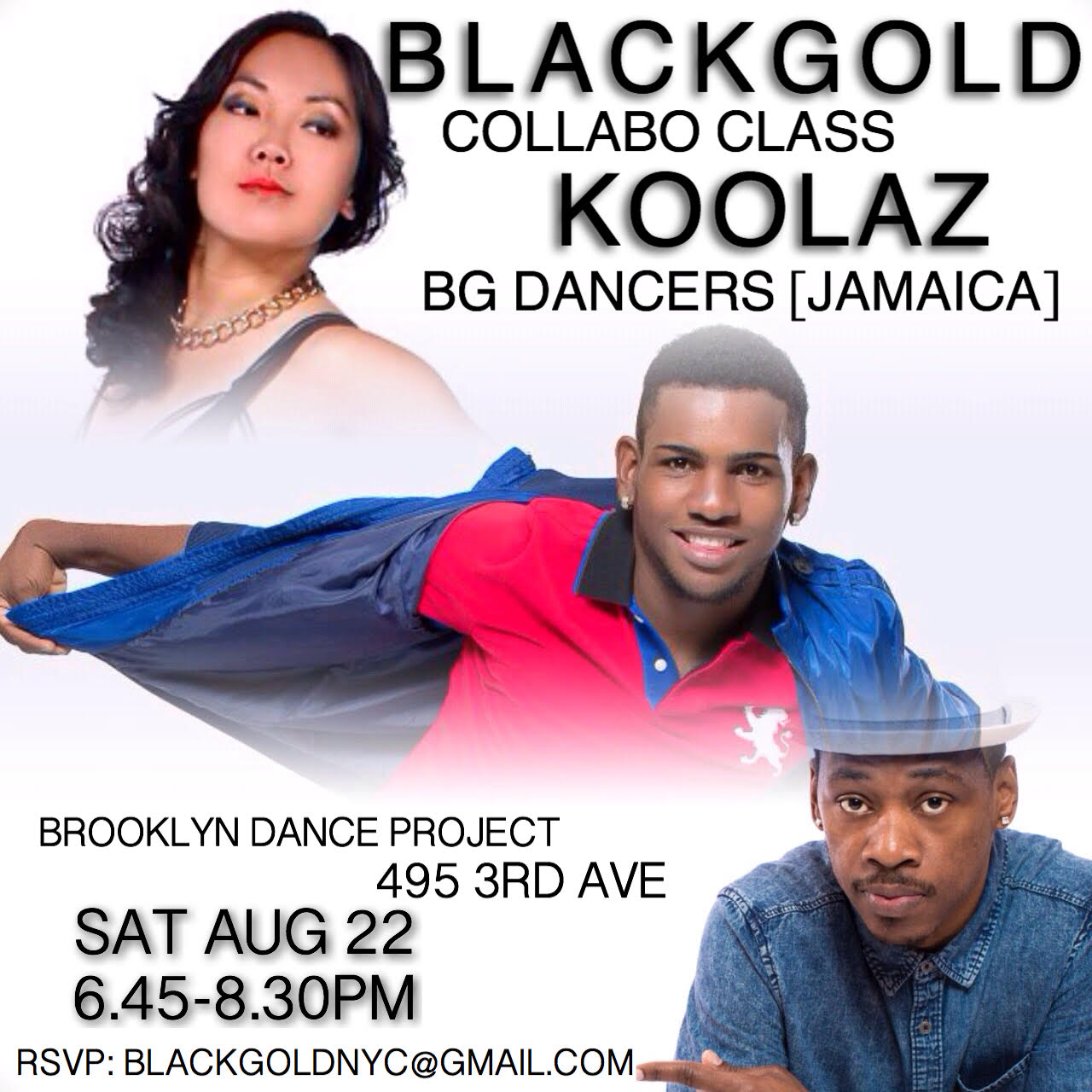 Blackgold & Cindy Claes
Workshop at Soul Town Dance in Seoul, South Korea – Feb 2015
South Korea – Sept 2014
Do Sumn – International Dancehall Workshop at Broadway Dance Center
Singapore
Stockholm, Sweden
Toronto, Canad
WORKSHOP IN BERLIN GERMANY