Warning: Use of undefined constant user_level - assumed 'user_level' (this will throw an Error in a future version of PHP) in /customers/f/0/5/hannaherbertson.com/httpd.www/wp-content/plugins/ultimate-google-analytics/ultimate_ga.php on line 524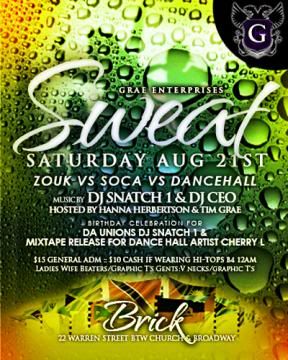 The Sweat party is an event to allow adults the chance to straight lose themselves on a dance floor. Once a month after you've been working hard and going to the trendy spots and being cool, The SWEAT Party allows you to take off your cool grab your friends and you sneakers and let it OUT!.
Remember the house party when you grabbed your favorite T shirt/ wife beater some jeans and your HI-Tops cause you knew there was gonna be a dance battle lol ? This is revival of that good time . The music we play is that ahhhh damn thats my JOINT type of music. please feel free to SWEAT IT OUT!
This month we SWEAT OUT THE CARIBBEANS – Celebrate Cherry L's mixtape release and DJ Snatch1's bday so you already know it will be madd!
Location: Brick on 22 Warren st between Broadway and Church in Tribeca (Manhattan)
Time: 11pm-4am
Dresscode: Sweat and dance friendly!
$10, free if you wear hitops before midnight. 21+ w ID
Media, contact: hanna@hannaherbertson.com